As I said last year, I'm not sure when I started doing this or who got me started since many bloggers I knew were doing variations on it. According to a few notes on Evernote from previous years, my one word for 2014 actually was two words: "Focus" and "equilibrium." The equilibrium part of it was because I had just discovered that year that I have tinnitus. In 2016, the word was "Reinvigorate." In 2018, it was "Breathe."
This year I've decided to keep last year's word for my one word for 2020 too:
Physically
At the start of last year, I was recuperating from knee surgery the previous October. In late March 2019, I somehow injured my left knee. After several months of doctor appointments and physical therapy, in late October 2019, I had arthroscopic surgery on the knee wherein a small mass of torn meniscus was removed and the cartilage around the knee was smoothed.
During the "Spring Lockdown," I was able to walk a lot around our neighborhood, which helped with the healing of my knee. However, after I went to back to work at the library in late May/early June, sadly I became mostly sedentary again despite our having curbside service and having to walk books out to patrons in vehicles or on our porch. Then in late September, I broke my left middle toe, not helping me get (back?) into a groove or any groove.
Oh, and yes, in mid-November, my wife Kim and I tested positive for Covid-19 that put both of us out of commission for a couple of weeks. Luckily, it was mild for both of us with neither one of us having fevers and the main symptom for her being losing her senses of taste and smell.
I have no specific goals, other than to walk more, consistently throughout the whole year, rather than just here or there, and to be more consistent with the times I go to sleep and awaken.
Mentally & Spiritually
Awakening earlier also ties in with my mental and spiritual recuperation. Over the last couple of months, I have been attempting to awaken earlier so that I have time to meditate and journal before I head out the door to work on weekdays. I'll be honest that I usually haven't awoken early enough to have time to do both and only one or the other, and then with either one, very inconsistently.
Then on the flip side, I haven't been meditating at the end of the day, as recommended by the Worldwide Community of Christian Meditation to which I was introduced earlier this year by Deb Nance of the blog Readerbuzz. I'd like to incorporate both morning and evening meditation regularly into my routine.
Last year I set a goal of reading a book a week (including one nonfiction book a month), journaling daily, and re-incorporating devotions into my daily routine. This year, I have the same goals, but with a slight different emphasis with my morning after starting online therapy in February even before the lockdown. Last year, I said that journaling for me would mean typing into an app called Journey on my laptop. I noted that unfortunately, my printing and handwriting is atrocious (my wife blames my former job as a newspaper reporter where I had my own version of shorthand/ "chicken scratches") so as a result, I would not be using a physical journal.
However, since then, I have been journaling longhand on legal pads at the direction of my therapist. This year, I would like to continue that, and add using Journey to keep memories more for posterity and possibly I've thought (in the back of my mind) for my nephew Jonathan and niece Grace (since Kim and I don't have children) for when I'm "gone". I remember my late paternal grandfather kept a diary every day for years, including weather reports each day complete with temperature and barometric readings, and I enjoyed looking back at his reports after he passed away in 1979 when I was 10. Maybe some day it can be the same for them reading my entries.
Hmmm, according to Uncle Bryan, it was 32 degrees Fahrenheit on December 31, 2020 and the barometric pressure was 30.23 inches, whatever the heck that means.
---
As always, I have five other goals for the year, that I have made as goals every year:
Be quick to listen.
Slow to speak.
Slow to anger.
Talk less.
Smile more.
The first three are from various translations from The Book of James in The Bible, that my mother likes to quote often:
"Let everyone be quick to listen, slow to speak, slow to anger."

James 1:19
The last two are advice Aaron Burr gave Alexander Hamilton in the song "Aaron Burr, Sir" in the musical Hamilton.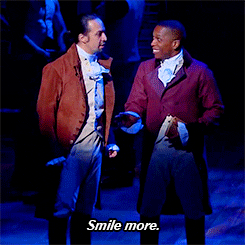 What about you? Do you have a "One Word" each year? If so, what is it? If not, what is one goal you have for 2021?