As I said last year, I'm not sure when I started doing this or who got me started. According to a few notes on Evernote from previous years, my one word for 2014 actually was two words: "Focus" and "equilibrium." The equilibrium part of it was because I had just discovered that year that I have tinnitus. In 2016, the word was "Reinvigorate." Last year's word was "Breathe."
Without further ado, this year's word is:
I didn't have to think much about this year's word since it was obvious. In late March, I somehow injured my left knee. After several months of doctor appointments and physical therapy, in late October, I had arthroscopic surgery on the knee wherein a small mass of torn meniscus was removed and the cartilage around the knee was smoothed. While I am back to "normal duties" at my job at the library, I still have scar tissue that is in the process of healing.
To assist with that process, I want to walk daily. Also on the physical side, I want to eat and drink better than I have in the last several years. I am not setting a goal of how much weight to lose, but I know that any amount I can lose will lessen the burden on my knees in the future. Plus, of course, naturally it will help my health overall.
Beyond recuperating physically, I want to recuperate mentally and spiritually, in terms of regaining a former state or condition. I remember a time when I read, wrote, and prayed more…and felt more centered than I have within the last few years. To that end, I want to read a book a week (including one nonfiction book a month), journal daily, and re-incorporate devotions into my daily routine.
By journaling, I should clarify that I mean typing into an app called Journey on my laptop. Unfortunately, my printing and handwriting is atrocious (my wife blames my former job as a newspaper reporter where I had my own version of shorthand/"chicken scratches") so I will not be using a physical journal.
For a while last year and the previous year, I had a regular devotion routine, which I used The Book of Common Prayer morning and evening. I want to develop that routine again, to help bookend my days.
---
I have five other goals for the year, that I have made as goals every year:
Be quick to listen.
Slow to speak.
Slow to anger.
Talk less.
Smile more.
The first three are from various translations from The Book of James in The Bible, that my mother likes to quote often:
"Let everyone be quick to listen, slow to speak, slow to anger."

James 1:19
The last two are advice Aaron Burr gave Alexander Hamilton in the song "Aaron Burr, Sir" in the musical Hamilton.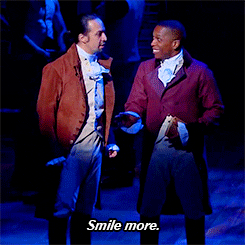 Do you have One Word for 2020? Any goals or resolutions for the New Year?
All this month, I've been joining Tanya & Kimberly at Girlxoxo and Tamara at Traveling with T for their annual #AMonthofFaves blog event – a fun way to recap the year that was. Today's post fit the topic Challenges and Goals, with the prompt "Reading challenges, personal goals, resolutions – how did you do? Which was your favorite book read (and / or least favorite) for each challenge – or from all of them. Did you make New Years Resolutions? Did you get to all of them? Are you making any for next year … next month … next season?" In addition to the topic for this one and two others that I did earlier in the month, I will do one more, This is How We Read, next week. In that post, I also briefly will address my reading goals for 2020. To see the entire list, visit #AMonthofFaves 2019 [Blog Event] Announcement.